USPS Building Bridges Cancellation Ceremony Program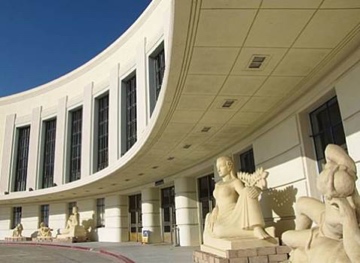 Feb 18, 1939 Golden Gate international Exposition presented by Treasure Island Museum and Feb 18, 2021 Rob Dehlinger and Alpha Rhythm Kings Music Video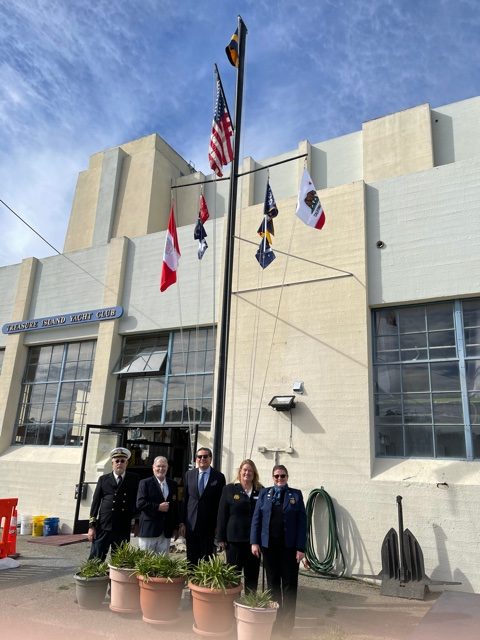 Ceremony Program

Full Program for USPS Building Bridges Special Postal Cancellation Ceremony on February 18, 2021. First Broadcast of Video on Feb. 20, 2021 5pm PST
1:00pm Treasure Island Yacht Club Flag Raising
Photos of officers taken in front of flags Morton Beebe
2:00pm World Premiere of Trumpet Fanfare composed and performed by Rob Dehlinger
Opening Remarks Karen Lile
Opening Remarks by USPS San Francisco Postmaster Abraham Cooper
USPS Building Bridges Special Postal Cancellations by Abraham Cooper
Acceptance speech by Consul General of Peru in SF Hernando Torres-Fernandez
Photos taken amidst the sculptures Morton Beebe
2:20pm Presentation by USPS San Francisco Postmaster Abraham Cooper
Acceptance speech by Treasure Island Museum President Mike Hennahane
Photos taken amidst the sculptures Morton Beebe
2:40pm Presentation by USPS San Francisco Postmaster Abraham Cooper
Acceptance speech by PICYA Commodore Patti Mangan
Acceptance speech by TIYCA Commodore Atta Pilram
Photos taken amidst the sculptures Morton Beebe
3:00pm Cast off for Ceremonial Sail around Treasure Island on Sailboat "Sandpiper"
Consul General of Peru in SF: . Hernando Torres-Fernandez and his wife Adriana Torrez-Fernandez
Karen Earle Lile
Captain Michael Arntz


Ceremony Events and Film Production Credits:
Production Credits:
Executive Producer: Karen Earle Lile
Pre-Production: Ivica Dordevic
Liaison between Karen Lile Treasure Island Development Authority : Walt Bilfosky
Liaison between Karen Lile and Treasure Island Museum: Carol Lustenader
Liaison between Treasure Island Yacht Club and Treasure Island Yacht Harbor: Will Smith
Liaison between Karen Lile and US Coast Guard Sector San Francisco Captain Marie Bird: PICYA Commodore Patti Mangan
Harbormaster: Anthony Cirillo. Treasure Island Yacht Harbor
Filmmakers: Philippa and Christopher Frey, Cross Media International
Arial Pilot/Footage on Feb 18, 2021: Daniel S. Foldes, Pint of Soul
Drone Pilot on Feb 20, 2021: Andre Lay
Editor: Nanami Yokota
Intern on Location Assistant: Anastacia Loukainoff
Photographer: Morton Beebe

Music
Trumpet Fanfare Composer/Performer: Rob Dehlinger
Closing Music Credits:
– Producer: Karen E. Lile
– Rachmaninoff Second Piano Concerto, Movement III
– Concert Pianist: Kendall Ross Bean
– Musicians of Oakland Symphony
– Composer: Rachmaninoff
– Recorded 1986

United States Postal Service
– Executive Postmaster for San Francisco: Abraham Cooper
– Corporate Communications: Augustine Ruiz
– Marketing: Kristina Uppal
– Djuana Johnson

USPS Building Bridges Special Postal Cancellation Series
– Logo Designers: Karen Earle Lile and Kendall Ross Bean
– Art Director: Karen Earle Lile
– Board of Directors of Building Bridges the Non-profit
– Founders of the Series: Dan DiMiglio, USPS Corporate Relations, Karen Earle Lile, Layton Hansen, Past Postmaster Walnut Creek

City of San Francisco Treasure Island Development Authority
– Special Events Film and Photo Locations Manager: Jack Nathanson

Consulate of Peru in San Francisco
– Consul General of Peru in SF: Hernando Torres-Fernandez

Treasure Island Museum
-Executive Vice President: Walt Bilofsky
-President: Mike Hennahane
-Past President: Claire Wahrhaftig
-Board Member: Morton Beebe
-Past Board Member ~ Atta Pilram
-Collections Committee ~ Chris and Philippa Frey
-Lecture Series Producer ~ Anne Schnoebelen
-Lecture Series Speaker ~ Christie Nelson
-Office Manager ~ Rane Stark-Buhl
Pacific Inter-Club Yacht Association
-Commodore: Patti Mangan
-51 Captains and their Crew on 51 sailboats and power boats
Treasure Island Yacht Club
-Commodore: Atta Pilram
-Vice Commodore: Will Smith
-Rear Commodore: Kirsten Ritchie
-Pete Van Putten

Sandpiper, a Hunter Vision 36 Sailboat
-Owner/First Mate: Karen Earle Lile
-Owner/Captain: Michael Arntz
Special Thanks to:
–Consulate of Peru in San Francisco
-Adriana Pinzon Navarro de Torres-Fernandez
-Ivana Dordevic
-Conway Jones
-Rear Admiral John Bitoff, Retired

A Message from Karen Earle Lile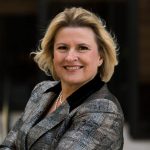 We have found in our past, the patterns that uplift us, that bind us, that build bridges of enduring strength and unity between us.
We gathered patterns from our past and are continuing as artists and creators, to create new art, music, ideas and that bind us today in a vibrant productive unity for our mutual benefit.
Why? Because the things we create together become such powerful symbols and ideas, they capture the imagination and inspire generations of creators and celebrations to come. .
Let us strengthen friendships and gather others into the warmth of a companionship of ideas, that gives us meaning and connection and a unity of community together.
To read about the organizations contributing to our ceremony on Feb 18-20, 2021, click on this link: Who is Who.
Golden Gate International Exposition Historical Context
In 1939, the United States' strained relations with countries in Asia and Europe echoed the challenges of war amidst a crippling depression. The city of San Francisco, known as the "Gateway to the West," was the closest major continental American city to Asia. Selected in 1935 to host an American world's exposition, fair organizers were quick to present the unique and long-term geographic and cultural relationship that San Francisco had with countries that bordered the Pacific Ocean. On February 18, 1939, San Francisco's Golden Gate International Exposition (GGIE), which eventually attracted more than 8 million visitors, adopted the "Pageant of the Pacific" as its theme. The exposition served as a platform that attempted to facilitate a multicultural dialogue that promoted peace and was the first occurrence where the fine arts of the Pacific Rim were assembled at an American massed event.
Geographically closer to the events in Japanese-occupied China than the concurrent New York World's Fair, San Francisco hosted an exhibition that promoted peace in the Pacific with the focus on tourism and trade. The main purpose of the GGIE was twofold: to position the United States as a world power and to aid the nation, and San Francisco in particular, during the Depression. The fair was not only an idealistic enterprise but also a practical one.
Source Santa Cruz University. Music of American World's Fairs: Music, Protest and Politics at the 1939 and 1940 Golden Gate International Exposition.